This Week - Sunday 3rd December 2006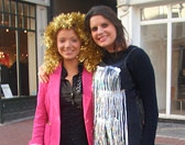 Sarah Jane and Caroline warm up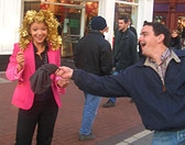 Seán lends a hand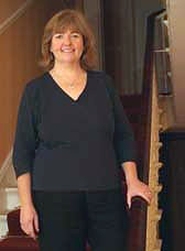 Teresa Lynch
This week on Hands On we have a report on Universal Newborn Hearing Screening. Sean Herlihy sets Sarah Jane and Caroline a Deaf Busking Challenge and in our first Teresa's Column of the series, Teresa meets Occupational Therapist and Gallaudet graduate Cathy McCormack. We also have old favourites Molly and Mr. Milk and Senan brings us the news from around the Deaf world.
Universal Newborn Hearing Screening
The NAD and Irish Society of Audiology have been lobbying for UNHS for many years in the hope that every child in Ireland will have their hearing tested within the first few weeks after birth. As UNHS is continually being introduced in countries around the globe, we ask what plans are in place for introducing UNHS in Ireland and whether parents whose children are diagnosed deaf through UNHS will be informed of ISL and Deaf culture.
Deaf Busking Challenge
Inspired by Grafton Street's busking scene, Sean Herlihy sets a challenge for Sarah Jane and Caroline - they have 24 hours to prepare an ISL performance and €15 each to spend on costume and props. What's the catch? They have to perform on Grafton Street the next day and earn back the money they've spent!
Teresa's Column
Cathy McCormack is an Occupational Therapist who studied in Gallaudet University. Cathy tells Teresa Lynch about her experience growing up in a hearing family and struggling through mainstream school as well as finding the Deaf community and sign language at 18. She also discusses her decision to get a cochlear implant and her goal to increase Deaf awareness in the field of Occupational Therapy.
News with Senan
The Italian Association of the Deaf held a nationwide march in October, walking from Turin to Rome to demand that the government pass a bill to recognise Italian Sign Language. They were supported by members of parliament and Italian sports personalities.
http://www.eudnet.org/update/online/2006/oct06/oct06.htm

Jeff McWhinney has been nominated for the Guardian Public Servant of the Year Award for creating SignVideo, which remotely connects British Sign Language interpreters to local government and health offices. The new technology brings sign language interpreters into public services, a breakthrough that is changing the lives of Deaf and hard-of-hearing people. Jeff demonstrated the equipment on Hands On two years ago. SignVideo, subscriptions start at £200 a month, giving instant access to a BSL interpreter, either via the screen of a video conferencing unit or a video phone. The winner of public servant of the year will be announced on 5 December.
http://society.guardian.co.uk/publicservicesawards/story/0,,1885862,00.html

At the Abbey theatre there will be an interpreted performance of the play 'School for Scandal'. An eighteenth century equivalent of 'Hello' magazine, it's a glittering comedy of tittle-tattle and style written by Richard Brinsley Sheridan. The performance will be an interpreted by Amanda Coogan on December 11th.
http://www.abbeytheatre.ie/whatson/scandal.html

Greenbow are planning an ice-skating event in December and if you've started thinking about New Year's Eve, check out the IDYA website for details of their James Bond themed party.
http://www.greenbowdeaf.com/events/2006/index.html
www.idyablog.com
Molly and Mr. Milk. (Letter G)
In the land of G, Molly and Mr. Milk meet a Giraffe and a Gorilla!
Competition
This week you can win a Warner Brothers subtitled DVD of 'Superman Returns'. All you have to do is answer this question:
Who played Superman in the original Superman trilogy?
Text your answer to 086 173 6131
or
Email your answer to handson@mindthegapfilms.com
SMS messages are charged at your usual network rate.
The winners will be picked at random and announced on the show. Remember, y o u m u s t i n c l u d e y o u r n a m e, address a n d age . G o o d L u c k !
CONTACTS

UNHS
National Association for Deaf People (NAD)
www.nadi.ie
35 North Frederick St,
Dublin 7.
Tel: 01 872 3800
Minicom: 817 5777
Fax: 01 878 3629
Email: nad@iol.ie
Irish Society of Audiology
www.irishsocietyofaudiology.ie/
Irish Deaf Society (IDS)
www.irishdeafsociety.ie
30 Blessington Street,
Dublin 7
Minicom: 00353 1 860 1910
Fax: 00353 1 860 1960
Tel: 00353 1 860 1878
Email: info@irishdeafsociety.ie
Teresa's Column
Teresa's Column was shot on location at:
Number 10
10 Lower Ormond Quay,
Dublin 1
www.no10dublin.com
Tel: 00 353 1 8787416
Email: info@no10dublin.com
Gallaudet University
www.gallaudet.edu/
800 Florida Avenue, NE,
Washington DC 20002
Minicom/Tel: 202 651 5000
News
Signvideo
www.signvideo.co.uk/
The Abbey Theatre
www.abbeytheatre.ie
26 Lower Abbey Street
Dublin 1
Tel: 00 353 1 887 2200
Fax: 00 353 1 872 9177
Email: info@abbeytheatre.ie
Greenbow (Deaf Lesbian, Gay, Bisexual & Transgender society of Ireland)
www.greenbowdeaf.com
Outhouse,
105 Capel Street,
Dublin 1.
Tel: 01 873 4932
Fax: 01 865 0090
Text: 086 367 1375
Email: deafgreenbowlgbt@yahoo.ie
Irish Deaf Youth Association (IDYA)
www.irishdeafyouth.com
www.idyablog.com
30 Blessington Street,
Dublin 7
Fax: 353 1 8601960
Tel: 353 1 8601878
Minicom: 353 1 8601910
SMS: 085 7374734
Email: info@irishdeafyouth.com