Hands On! - 2 Dec 2012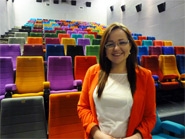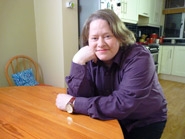 Hands On, 2nd December at 12.20pm on RTÉ One
Click here to watch this weeks promo.....
This week on Hands On we check out Ireland's first ever Deaf Film Festival at the Light House cinema in Dublin! Over seventy filmmakers from all over the world submitted their films for selection. 35 were shown across the weekend and Ireland was well represented at the festival. Make sure you tune in to meet the people behind the big screen successes and to see a sample of some of the fantastic films on offer.
Eddie's back with 'Take 5' and Deaf artist Niall Mc Cormack is on the couch for a chat! Niall exhibits his work all around the world and is considered one of the most exciting contemporary artists in Ireland. He talks to Eddie about his inspiration, living in London and his recent venture into portrait painting. Niall's work was recently on display at Molesworth Gallery and we also take a look at some of the pieces featured in the exhibition.
In Ireland, there are 50,000 people caring for a family member with dementia; the most common form of this is Alzheimer's disease. Over the next 30 years, the number of people with dementia is expected to rise as our population lives longer. On this week's programme, we offer some helpful tips and advice to those who find themselves caring for a member of their family with the disease. We speak to the Alzheimer's Society of Ireland who tell us about some of the support and services available. We also speak to one member of the Deaf community who shares his story about caring for his father.
For more information please contact:
Alzheimer Society of Ireland http://www.alzheimer.ie/Home.aspx Ph: 1 800 341 341
Their national helpline is accessible via email helpline@alzheimer.ie
Mon - Fri from 10am - 4pm. You should receive a reply within 24 hours.
Citizens Information http://www.citizensinformation.ie/en/ Ph: 0761 07 4000
Citizens Information Centre in Deaf Village Ireland
Opening hours are:
Tuesday, 12.30pm - 9pm
Thursday, 3pm - 6pm
Saturday, 6.30pm - 7.30pm and 8.30pm to 9pm.
The office can also be open at any other time on request.
Deaf Hear - check out their website for assistive technology available that can help to notify you if somebody is wandering. https://www.deafhear.ie/DeafHear/home.html
Hands On would like to thank:
Niall Mc Cormack www.niallmccormack.ie
Light House Cinema http://www.lighthousecinema.ie/ Ph: 01 8728006
The Ormond Wine Bar, 6 Ormond Quay Upper. Ph: 01 874 9778
Molesworth Gallery http://www.molesworthgallery.com/ Ph: 01 679 1548
Alzheimer Society of Ireland http://www.alzheimer.ie/Home.aspx