Teresa Lynch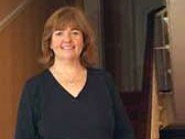 Teresa Lynch
Teresa is from Dublin and is married with two children.
She holds a diploma as an Irish Sign Language Teacher from Trinity College, Dublin where she is now working part time as lecturer. She is currently studying for the masters in Bristol University. She is registered as R1 Deaf interpreter. She is also an avid world traveller and previously resided in America for 7 years.
Teresa became actively involved in various organisations almost immediately after leaving school, such as Young People's Club, Irish Deaf Society, Irish Deaf Women's Group and Sign Language Interpreter Service with a common purpose - to promote equality of life among the Deaf Community.
Teresa has been working on Hands On since 2003 interviewing the most fascinating and inspirational characters in the Irish Deaf Community.

Q & A:
My Mother/ Father always says.My mother always said 'Go for it'; my father always says 'Could be worse' (no wonder he is 88 years old and alive and kicking!)


Favourite phrase: 'Don't Give Up'


Pet Peeve: People taking the credit for things done by others.


Crush: (some one famous) growing up 'Donny Osmond' (cuz he has two Deaf brothers!!).


If you could have dinner with 3 famous people from History who would they be? Why? Nelson Mandela, Rosa Parker and Princess Diana. Nelson: Because he fought for what he believed in and got what he wanted and also he forgave the White government in South Africa who put him to jail for 27 years for political reasons. Rosa: she was very strong and very brave when a bus driver asked her to give up her seat for a white man and she refused! Diana: she made people to feel comfortable with her even though she was so vulnerable and lonely.


How would you like to be remembered? For my huge support of ISL and always a strong believer in Deaf rights.


If you have magical powers, what would your powers be? Ensuring that ALL Deaf people love and are proud of ISL. Making parents of Deaf children and Teachers of Deaf children fluent in ISL and have good attitudes about ISL. It would solve all the problems from the beginning.