Short Film Competition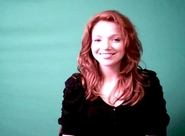 Sarah Jane Maloney
Watch as Sarah Jane explains how you can enter your short film into our Short Film Competition...
To go with our special programme about Deaf people working in the media we'd like to challenge the Irish Deaf Community to get creative and submit an idea for a 3 minute short film. You can enter by sending us a script, draw a storyboard or make a rough version of your idea for a film on your digital camera or even your phone and send it to Hands On before June 1st. We'll pick the best entry and winner gets to work with a professional team to make a great quality version of the winning film!
The best films sometimes have very simple stories, so be realistic and use a simple location, a small cast and don't go mad with special effects! Take a look at Louis's film, Coming Out, which won "Best Director" at this year's Wolverhampton Deaf film festival, for inspiration!
Coming Out
http://www.youtube.com/watch?v=K3ai5IVfFdE
If you are new to script- writing, it is best to write it like a short story. There are also lots of websites where you can look at scripts for your favourite films and use them as an example of how a script is written. Don't worry if the English in the script isn't perfect!
Storyboards are a great way to visualise your film on paper. You don't have to be able to draw to make story boards, stick figures are fine. The idea is that you have a drawing for each shot in the film, this may sound like a bit of work but it really helps you to think through the structure of the film properly. Storyboards are used on all professional films, take a look at this film clip from the movie Taxi Driver, the original storyboards are shown with each shot.
http://www.youtube.com/watch?v=FvQV21hkMjI
You can print of a blank storyboard template here: http://www.csupomona.edu/~wcweber/325/storybd.htm
You can always film a basic version of your film on a digital camera or even your phone if the quality is ok. It should be no longer than 3 mins! Don't worry about complicated shots or making it look great. Just use it as a basic way to show us your story. If you do this it would be a good idea to put in storyboards or a rough script to go along with it.
To send us your rough film it's best to load it on to your computer and burn it on to a CD or DVD and send it to us at:
Hands On
6 Wilton Place
Dublin 2
If the file size is small - under 10mb - you can email it to us at handson@mindthegapfilms.com

There are also lots of other websites and forums that have advice on making films, try www.filmmakersnetwork.ie/forums/
Below are films from Deaf Director Sam Dore. You can get more info at his website www.bursteardrum.net/
Chronic Embarrassment
http://www.youtube.com/watch?v=S_qJeT7_FyY
Not From Where I'm Standing
http://www.youtube.com/watch?v=1mn0rTJlJbY
Tricks
http://www.youtube.com/watch?v=hyKpNWt-WZs
Snowball
http://www.youtube.com/watch?v=Bv8lBKYjRXY
You can see Raymond Watsons short films at his Bebo page which is:
http://www.bebo.com/Profile.jsp?MemberId=14742996
Remember short films don't need a big story or lots of talking or signing, take a look at this award winning Irish short film Teeth.
Teeth
http://www.youtube.com/watch?v=87AkewNcgwU
Remember you have until June 1st to get your film scripts, storyboards or roughly shot versions in, so start working on them now! We'll help the winner to make their script into a great short film which will be shown on Hands On and will also have an exclusive screening at Deaffest - the popular annual Deaf film festival in Wolverhampton. You'd never know, it could be the first step in becoming the next Steven Spielberg!