Ronan Dunne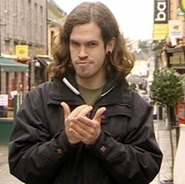 Ronan Dunne
Hailing from Terenure in Dublin, Ronan attended St Joseph's school for Deaf boys.
After finishing his Leaving Cert, Ronan studied at the Centre for Deaf Studies in Trinity College, graduating with a Diploma. He then went on to study in Ballyfermot College of Further Education, earning himself a Higher National Diploma in Digital Media. Having won a Fulbright scholarship, Ronan went on to study Graphic Design in Gallaudet University, Washington for a year.
Ronan has been a presenter on Hands On since 2007 and his favourite presenting item to date has been the feature of Deaf people working in the media.
Currently involved in the IUK Deaf camp committee, Ronan has also been involved in the IDYA (Irish Deaf Youth Association) and ISLA (Irish Sign Language Academy) in the past. He counts football and water polo as his main hobbies and takes a keen interest in travelling, snowboarding, surfing, body boarding and downhill biking.
Worst habit? Sleeping lots!
Your Secret Skill - massaging
Teenage Crush: Pamela Anderson
Who were your childhood heroes? Pirates
If you could have dinner with 3 famous people from History who would they be? Michael Collins: to have an Irish hero share his stories, Che Guevara: how it took a simple journey to become a figure revolution, Eddie Aikau Hawaiian surfer
If you have magical powers, what would your powers be? To be invincible
What's your motto in life? YOLO: you only live once