Eddie Redmond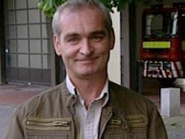 Eddie Redmond
Eddie Redmond was born in Wexford and is currently living in Dublin. He was educated in Beechpark School in Stillorgan and St. Joseph's School for Deaf Boys in Cabra. After completing his Leaving Cert, he worked in the Revenue Commissioners for 3 years before emigrating to New York in the late 1980's.
He worked at the Bankers Trust Company in Manhattan for 6 and a half years and while working, attended Plaza Business College for 3 years and graduated with an Honoured Applied Business Degree in Business Studies. Eddie returned to Ireland in 1996 and held a supervisor post for Deutsche Bank in Dublin before taking up his current role as HR manager in the Irish Deaf Society, a position he has held the past five years.
He was Vice Chairperson of the Irish Deaf Society for 8 years and became a TV presenter for Hands On in 1998.
His dream is to become a Deaf TV talk show host!!

Q & A:
Worst habit.buying shoes!


Stupid insult: Can Deaf drive?


Most Embarrassing moment: I farted in an elevator then 3 ladies came in on the next floor!!


Your Secret Skill: I'm excellent at ironing!


Biggest Crush: Patrick Duffy


Who were your childhood heroes: Margaret Thatcher and Mother Theresa


If you could have dinner with 3 famous people from History who would they be? Why? Queen Victoria, Abraham Lincoln and Jesus!


How would you like to be remembered? The singing Deaf!


What you like most about your job as presenter? Interviewing people about controversial topics


What do you like least? Hate doing pieces to camera in the cold!