Wendy Murray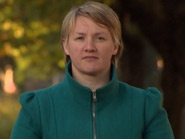 Wendy isn't just a presenter on Hands On, shes also a Production Assistant and Researcher. Work and keeping busy feature heavily in her life. She graduated from Trinity College Dublin with a Diploma in ISL Teaching in 2006 and is currently wrapping up a BA in Deaf Studies. The path to which included a Fulbright Scholarship to Gallaudet University.

Wendy is a board member of the Irish Deaf Society and has been a Hands On presenter since 2012.

When not working Wendy manages to find time somewhere to catch up on Bones and The Walking Dead, she also likes walking and plentiful travel.
Whats your worst habit?
Dont know how to stop working!

Who was your Teenage Crush?
David Duchovny
If you could have dinner with 3 famous people from History who
Would they be and why?
Thomas Mahon - Deaf Irish artist and teacher. For insight into his contributions to the education of the Deaf boys at St. Josephs.

Queen Maeve of Connacht - A pirate Queen from the west! She can speak 3 different languages. If I could teach her ISL, I am sure shed quickly be fluent
Charles-Michel de l'Epee - Father of Deaf Education. He founded the world's first public school for the Deaf in Paris. From there, many Deaf schools wereset up around the world. I would like to thank him for giving Deaf people a chance to have education and for believing in us.

If you could have superpowers, what would your powers be?
Make all people able to communicate in signed languages!