Sarah Jane Moloney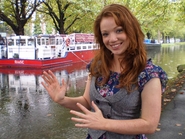 Sarah Jane Moloney
Sarah Jane Moloney is from Ashbourne Co Meath - but really is a dyed in the wool Kerry GAA fan! Sarah Jane is Deaf and Irish Sign Language is her first language.
She graduated from University of Limerick with a degree in Physical Education and is looking forward to making her pupils run at her command!
Sarah Jane caught the presenting bug after appearing on RTÉ's Physiquiz back in 1990 at the tender age of 8! She was interviewed about it on Sign of the Times, Hands On's predecessor, and then presenter, Josephine O'Leary rightly surmised that she should be concerned about her job!
Sarah Jane began presenting on Hands On in 2004 after she volunteered to shoot a video diary of college life in DCU and her potential as a future presenter shone through.
Her favourite presenting item to date involved running around the RTE studios nabbing RTE presenters and teaching them to sign 'Last Christmas' by Wham! She says her favourite part was flirting with Ryan Tubridy but found being flirted with by George Hook somewhat terrifying.
Q & A:
My Mother/ Father always says.When I was your age I never had a penny!!


Biggest Crush: Nick from Backstreet Boys


Who were your childhood heroes: the characters in secret seven, my friends and I set up a secret seven group, we started to collect 5p every day and figured out if we kept saving till we turned 18, we'd have enough to travel the world. How cute!


If you could live in another era, when and why? I wish I was 26 in the 1980s, from what my parents tell me, it was a happy world to live in. There wasn't so much technology like there is now and people were more into socalising. My kind of world!


How you describe yourself? I'm crazy, hyperactive and friendly.


What's your motto in life? It's better to try and fail than fail to try!


Have you won a prize/award ever- what for? I am still waiting for a Best Irish Presenter award...!