Caroline McGrotty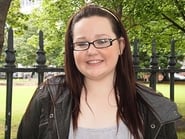 Caroline McGrotty
Caroline is a native of a small town called Dungloe in North West Donegal. As both of her parents are Deaf, it is only natural Irish Sign Language (ISL) plays a strong part in her life. She was educated in her home town at primary level and then was educated in Dublin at St. Mary's School for Deaf Girls.
Caroline has just recently graduated from the Centre for Deaf Studies, Trinity College Dublin with a Diploma in ISL Teaching. She hopes to go back to university next year to complete a degree and a Masters.
Caroline earned herself the Hands On presenting gig, by beating off stiff competition to emerge as the winner of the Hands On Presenter Challenge in 2007. Her favourite presenting item to date is the Disability Allowance magazine item back in 2008 as she had a brief taste of what it was like working in McDonald's, hairnets and all!
When not appearing in front of the camera, Caroline works for a charity organisation, Hand On Heart as a personal assistant to the CEO. In her free time, she is actively involved with voluntary work and serves as the chairperson of the Irish Deaf Youth Association, a very prominent organisation in the Deaf community renowned for its social events and has been the Chairperson of the Donegal Deaf Club for the past 3 years.

Q & A:
Worst habit.Thinking too much.


Stupid insult.Quote - "How would you know what they looked like? You're deaf!" Telling me that me being Deaf affects my eyesight... righhhhht.


My Mother/ Father always say. When are you coming home?


Your Secret Skill - Ripping a phonebook in half!


Biggest Crush - Gareth Gates! I was slightly obsessed!


What you like most about your job as presenter? I get to meet loads of people and get more involved in issues etc.


What do you like least? I hate getting up really early for shoots :(