Seán Herlihy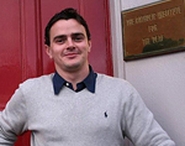 Seán Herlihy
Seán is from the Gaeltacht area in West Cork. He was educated at St Joseph's School for Deaf boys in Cabra and is a keen GAA and football player.
He holds a Bsc degree and higher diploma in Education from Trinity College Dublin and has since returned to St Joseph's where he now works as secondary school teacher.
Seån was elected President of the European Union of Deaf Youth, a post he served for two years before deciding to step down to concentrate on other commitments. These days Seån is back in action, serving as the football director of the Irish Deaf Sports Association, a role which takes up a large portion of his free time!

Q & A:
Worst habit. Being Talkative


Pet Peeve? Bad drivers


If you could have dinner with 3 famous people from History who would they be? Why? Michael Collins, Roy Keane and Jack Lynch because they are all true Corkmen!


What you like most about your job as presenter? Meeting new people.


What do you like least? Last minute scripts!


What's your motto in life? 'You can do it'


If you have magical powers, what would your powers be? Make a Double Seán Herlihy, who can do all the work while I party, and sleep.