Julianne Gillen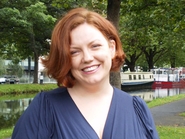 Julianne Gillen
Julianne Gillen began working as a presenter in 1990 on Hands On's predecessor 'Sign of the Times' as part of her work experience while attending Coláiste Dhúlaígh's Communication course.
As a mainstream-educated Deaf person, who only 'discovered' the Deaf Community at the age of 17, she gradually acquired ISL from her intensive involvements in the Irish Deaf Community over the years: Director/Organiser for the Dublin Deaf Theatre (1989-2001); serving on committee for the Dublin Deaf Association (1996-2000); Venture Scout Leader in the 191st Deaf Scouts Unit (1995-97); Coordinator of Irish Deaf Society's (IDS) Advocacy Project 'Deaforward' (2004-2005); Part-time Lecturer in Centre of Deaf Studies, Trinity College (2004-2007).
Julianne is currently working full time as a Community Resource Officer with DeafHear (Dublin South). She received her BSc Degree in Education from DCU in 2005 and works part-time as Tutor/Tutor-trainer for 'Deaf Adult Literacy Services, Irish Deaf Society. In her spare time, Julianne is a devoted mother to her two children and a self-confessed computer geek! Her hobbies include photography, poker, reading and debating politics!

Q & A:
Worst insult: "you're NOT deaf. pfft. you talk too good!" Oh, and "Hearing Impaired" or "Deaf and Dumb" labels really make me boil!!


Biggest Crush: I really loved Adam Ant as a child - he was my 'Prince Charming' all my Ken dolls had lines across their faces! Then it was Ricky Schroder. Andrew in Wham! Morten of A-Ha! And Bon Jovi too. *sigh*


Who had the greatest influence on you growing up? My visiting teacher, May Burns, she was so positive: telling me I can do things when everyone else was saying I can't!


If you could have dinner with 3 famous people from History who would they be? Why? Love to have met Helen Keller, Countess Markievicz and Georgiana Spencer, the Duchess of Dorchester. Women who did really well before their time!


What you like most about your job as presenter? I enjoy the camaraderie of working with the film crew and that euphoria when a difficult PTC or shot really comes off good!


What do you like least? It can be a pain signing a difficult/long or technical PTC over and over and over again, again and again trying to get it right. especially with numb fingers on a freezing cold morning!


What's your motto in life? "Shoot for the moon, if you miss you'll land among the stars"