Further Information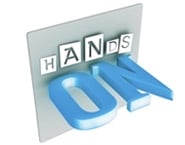 Last weekend on Hands On we met with the Deaf Women Channel Swimmers who are raising funds for the Irish Deaf Womens Group, and the Deaf Heritage Centre.

You can donate to their cause here: http://www.idonate.ie/fundraiser/11157_irish-deaf-channel-swimmers-2014-fundraising-page.html

We also took a look at diabetes, and how to avoid it. Here are some more tips on staying fit and healthy:

Eating Healthy:
Eat a wide variety of different foods as no one food that will provide all the nutrients we need.
Try to be less generous with the size of portion you serve up
Eat slowly so your brain gets the message when you stomach is full
Choose lower fat or lower sugar options when available
Eat plenty of fruit and vegetables aim for 5 portions a day
Eat only when you are hungry
Try to limit your use of salt
Never go food shopping when you are hungry
Try not to regularly buy foods that you find hard to resist
Drink plenty of fluids
Getting Exercise:
Try to get just 30 minutes of exercise for five days a week, some is better than none!
Short bouts count! 3 batches of 10 minutes of activity count as your 30 minutes.
Spread your activites across the week.
Try to include activities that help your endurance and muscle strengthening 2-3 days a week.
You can combine your exercise with other activities, for example, getting some heavy gardening done can count as endurance and muscle strengthening exercise. Chasing the kids around the park, or even just walking briskly to the shops can all help keep you fit.
Exercise with a friend, a brisk walk and a chat can work wonders.
Dont always take the easy route, use the stairs instead of the elevator, dont take a shortcut if youre not in a rush.
Dont get frustrated trying to find a parking space right next to where youre going. Park a bit away and get some walking in.
Set goals for yourself, and reward yourself when you achieve them!
Find an active hobby, the more fun youre having, the less like exercise it feels!

You can get more tips like these here:
http://www.nutritionandhealth.ie
http://www.getirelandactive.ie
http://www.hsph.harvard.edu/nutritionsource/
And of course, your local gym!