Senan Dunne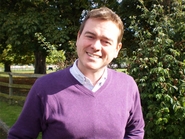 Senan Dunne
Hailing from Carlow, Senan was educated at Beechpark School in Stillorgan before attending secondary school in St. Joseph's School for Deaf Boys in Cabra. He later graduated from the University of Bristol with a diploma in Deaf Studies.
Senan started his TV career as a reporter for Sign of the Times in the early 1990s and has been presenting Hands On since series 2 in 1997. Coupled with his TV presenting duties, Senan is the Sign Language Co-ordinator at St Joseph's School for Deaf boys
Senan is an avid drama fan and is a keen member of the Drama Group who are affiliated to Dublin Deaf Association.

Q & A:
My Mother/ Father always says.You must respect yourself before you can respect anyone else


Favourite Phrase: No Comment


What are your favourite books/ movies/sport: Pride and Prejudice/Star Wars [Ep. IV, V and VI]


If you could have dinner with 3 famous people from History who would they be? Why? Rosa Parks - for her belief that she deserved to be treated with dignity, just the same as everyone else and for standing up (or sitting down) for it. St John of Beverley - he believed that Deaf people could be educated, unlike St Augustine who dehumanised Deaf people by saying that they couldn't be educated. Finally, Thomas Mahon, one of the unsung heroes of Deaf education in Ireland - he was a Deaf artist and teacher at St. Joseph's whose work was sold all over the world to raise funds for the school


If you could live in another era, when and why? During the Early medieval period as back then the Celts valued Deaf people as people.


How your friends describe you? 'Indescribable' - my friends couldn't agree


How would you like to be remembered? What an indescribable bloke!