Nora Duggan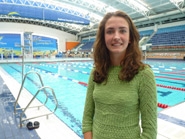 Nora is Hands On's newest presenter. She hails from Dublin and went to school at St. Mary's School for Deaf Girls but is currently in her final year studying Geography at NUI Maynooth.

Nora is an avid swimmer and has represented Ireland at the European Deaf Games and the World Deaf games. She is also part of a team of women planning to swim the English Channel next year.

Nora also sits on the St. Mary's Deaf Heritage committee.

When she isn't working, studying or swimming she likes to travel, and has been to over 30 countries on four continents. Antarctica is next on her list!
What do you get up to when not presenting?
During the summer, I go out of the country the first chance I get! During college terms, I love nights-in, watching movies or tv series (Breaking Bad tops them all!). Yes, I'm such a bore!

What's your worst habit?
Ive got terrible memory, I forget the important bits and remember useless facts!

Who was your Teenage Crush?
Teenage Crush? Is it wrong that I still have celebrity crushes?? I love Chris Hemsworth *swoons*

If you could have dinner with famous people from History who would they be and why?
Mark Spitz, the famous swimmer (to see how he feels about Michael Phelps' success); Rosa Parks (so that I could ask her how did she find the courage to stand up), and Abraham Lincoln (And ask him about what he thinks of America today).

If you could have superpowers, what would your powers be?
Time Travel and Transportation. Time Travel because you can go back to the moments you wish you could redo. Transportation so that I could travel around the world without all these airports check-ins and long haul flights!

What is your motto in life?
Be Happy! Simple as that.