Ciaran Moloney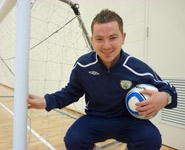 Ciaran hails from Ashbourne Co Meath but now lives in Finglas with his girlfriend. He attended St. Josephs School for Deaf Boys and has been a presenter on Hands On since 2011.

Ciaran enjoys keeping active with football and Cycling, and keeping inactive by surfing the internet. You can recognise him every November by his lovely mustache.

Whats your worst habit?
Biting my nails. And not being able to wean myself off Lucozade... It's my biggest vice.
Who was your Teenage Crush?
Jennifer Lopez.. I still have a crush on her today!
If you could have superpowers, what would your powers be?
To be able to successfully give up Lucozade.
To be able to teleport.
To be able to introduce a permanent state of peace and respect worldwide.
What is your motto in life?
What will be, will be!