Caroline Worthington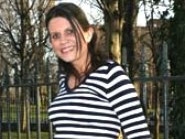 Caroline Worthington
Born and bred in Dublin, Caroline was educated in St Mary's School for Deaf Girls.
Having graduated from UCD with an Arts degree in English and History, Caroline now holds a Post Graduate Diploma in Education. She is currently working as a Remedial Reading and Numeracy teacher in Marian School for Deaf Girls, Cabra.
An active member of the Deaf community, she volunteers her free time to serve on the committee of St Vincent's Ladies Basketball team as the chairperson and has been playing for the club since 2001.
A presenter on Hands On since 2001, she counts the "Challenge Caroline & Sarah Jane" and "Summer Travelling" as her favourite presenting items.
Harbouring dreams of becoming a History teacher, Caroline also enjoys football, shopping and socialising!
My Mother/ Father always says."Why can't you behave more like your brothers!"
Most Embarrassing moment..Too many to list!
Teenage Crush : David Beckham

Who had the greatest influence on you growing up? Mrs Broderick my English teacher

If you could live in another era, when and why? 1920's...see Ireland's battle for independence and the clothes were to die for!

How you describe yourself? Fun, chatty and outgoing

What's your motto in life: Carpe Diem.

Tell your favourite joke...what did the bee say to the rose? Hi bud...what did the rose say to the bee? Buzz off!

If you have magical powers, what would your powers be? To be invisible!