Alvean Jones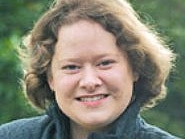 Alvean Jones
Born and bred in Dublin, Alvean enjoys the rare distinction of being the only presenter to have been with Hands On since day one!
After sitting her Leaving Certificate, Alvean studied history and philosophy at UCD where she also did a minor in psychology. She then turned her attention to gaining a Diploma in Adult and Continuing Education, graduating from NUI Maynooth in 1998.
Alvean's talents are not confined to appearing in front of the camera. Being the multi-tasker she is, Alvean also works behind the scenes at Hands On, transcribing ISL to English for the voiceover script. She is also a computer literacy tutor for both DALS (Deaf Adult Literacy Service) and St Joseph's Home.
Counting online browsing, vlogging and making short videos as her hobbies, Alvean has been very much involved in the Deaf Community, serving on a multitude of committees. At the relatively tender age of 23, Alvean was elected as vice chairperson of IDS. She also served as the Chairperson for Signlink. In 2005, Alvean also enjoyed a three year stint as a VSO volunteer in the Gambia, West Africa.

Most Embarrassing moment....Falling into the river
after seeing someone cute! (It was in Wicklow and it was a stream, but even still...at 12 years of age I was MORTIFIED!!!!!)


Biggest Crush: HAH. Some things are better left in the past.


Who were your childhood heroes: URSA from Superman II, Wonder Woman, and the Incredible Hulk.


If you could have dinner with 3 famous people from History who would they be? Why?
Well, an interpreter should be present so I can understand
these people.
- My 30 times Great grandmother, so I can find out what life was like for the average woman in her time. Ok, she's not famous. Fame is not everything.
- Cleopatra, to see if she REALLY bathed herself in asses milk.
- Marie Antoinette... 'Let them eat cake' to see for myself what type of person she is, to make people want to lop off her head.


How your friends describe you? Witty, a force of life, secretive, amazing person. (Well, I have wonderful friends.)


What's your motto in life: Why be normal when you can be yourself?


If you could have magical powers, what would they be? Telepathy