Hands On!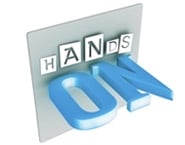 Thanks for watching this series of Hands On!
We're currently off air but you can watch any of the programmes you missed this series by clicking on the "video" link above.
Remember, Hands On is YOUR programme, contact us - handson@mindthegapfilms.com - to tell us what you think and what you'd like to see in the next series.
Follow us on Twitter @HandsOnTV or find us on Facebook - https://www.facebook.com/HandsOnDeafTV to find out when we'll be back on your screens again!!
Bye for now!