Richie Wilson - Meal of Fortune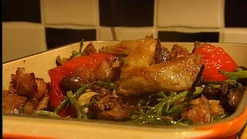 Friday 2 March 2012
Today, Richie Wilson steps up to the plate as we challenge him to create a dish from our Meal of Fortune wheel!! Today we're inspired by Maura's favourite cuisine, Italian!!!
Richie Wilson - Executive Chef - Berkeley Court Hotel
Roast Rabbit Loin in Parma Ham With Pecorino and Rocket Orzo
Ingredients:
1each Rabbit Saddle

400g Orzo Pasta

100g Sliced Parma Ham

250g Rocket Leaves

150g Pecorino cheese

200ml Olive Oil

1each Clove of Garlic

1each Large Sliced Onion

Seasoning
Method
1. Begin by Removing the loins and fillet from the rabbit bone. Season them lightly and fry on a high heat until golden brown all over. Remove from the pan and wrap each loin along with 1 fillet in a slice or two of parma ham. Place in the oven at 180 degrees for 4-5mins. Once cooked allow this to rest for a few minutes before carving.
2. Cook the orzo in a large pot of boiling water with a little olive oil. Once cooked strain and return to the hot pot. Now grate in 2/3 of the cheese and fold in 2/3 of the rocket.
3. With the remaining 1/3 cheese, 1/3 rocket, garlic and olive oil make a pesto by blending with a hand blender.
4. Fry the onion on a pan until it has caramelized
To serve:
Cut the rabbit into 3 and place each piece on a small bed of fried onion. Line the orzo pasta along the plate and top with any extra Parma ham you have (you could fry this for added texture). Now drizzle the plate with a little of the rocket pesto. Not a bad dish for pot luck ingredients, not bad at all!