Dale Pinnock - Omega 3, 6 & 9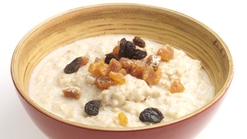 Monday 13 February 2012
Medicinal Chef Dale Pinnock is back to tell us about the importance of Omega in your diet and why balancing your omega 3, 6, & 9 is key to maintaining your health. Dale is going to show us a few recipes that will help to incorporate Omega 3 and talk about his work on the Omega Switch Awareness Project.
Dale Pinnock - Medicinal Chef
Website: http://www.dalepinnock.com/
Book: Medicinal Cookery
Omega 3 fatty acids are often deficient in the Western diet. These fats help to regulate so many activities in the brain and nervous system, as well as having a calming and mood stabilising effect. They are also key when it comes to cardiovascular health because they decrease inflammation!
Benefits:
Cardiovascular - Omega 3 reduces inflammation, whereas Omega 6 can increase it. Many modern diseases are associated with inflammation, in particular cardiovascular diseases. The inflammation causes damage to the walls of the heart and the effects of this can lead to heart attack.
Diabetes 2 - Omega 3 can help to regulate glucose activity. Omega 3 intake can play a therapeutic role in type 2 diabetes.
Arthritis - Omega 3 can benefit people suffering from rheumatoid and in particular osteoarthritis.
Skin conditions - Skin conditions are also associated with inflammation so it can benefit people suffering from eczema, psoriasis and even acne.
They also play a role in Alzheimer's disease, ADHD, Bipolar disorder, Cancer, Depression, High blood pressure, Huntington's disease, Lupus, Migraine headaches, Multiple sclerosis, Obesity.
If you are not taking enough Omega 3 or the correct balance of Omega you may feel tired, achy or fatigued. Omega is key to your long term health from degenerative diseases as opposed to short term health.
Sources:
Omega 3: Flax oil, ground flax, green veg, walnuts, oily fish (eg Salmon, Mackerel, Sardines)
Omega 6: Seed oils, sunflower oil, coconut oil, peanut oil, sesame, soy. It is also found in animal tissue, such as beef and poultry, most people get high quantities in their diet.
Omega 9: Olive Oil (and in coconut oil) - not an essential fatty acid as it is made by the body.
The key is knowing what foods contain the fatty acids, especially Omega 3 and getting the right balance.
Easy Omega Porridge
This is probably the most straight forward breakfast you can make. Porridge is a great breakfast choice, but in its normal guise it tends to be a tad too high in omega 6. With a couple of little additions, this simple breakfast can become much more favourable.
Ingredients
- 50g porridge oats
- 300ml of rice milk
- 1 tablespoon of ground flax seed
- Small handful of blueberries
Smoked salmon pitta pockets with wasabi mayo and baby spinach
These special sarnies are a real treat, and one you try them, I think you will find them quite addictive.
Ingredients
- 1 wholemeal pitta bread

- 3 slices of smoked salmon

- 1 tablespoons of mayonnaise

- 1-2 teaspoons of wasabi (depending on how brave you are)

- Handful of baby spinach leaves
Method
1. Cut the pitta bread down the middle, to create two small pockets.

2. Mix the wasabi and mayonnaise together to make a fiery green spicy filling.

3. Open up the pockets and fill with generous amounts of wasabi mayo.

4. Lay the smoked salmon slices on top of the mayo. Lay the spinach on top of the salmon.

5. Enjoy.

Fatty Acid Profile
total omega 3 = 2840mg
total omega 6 = 2230mg
Honey Soy Tuna Steaks with Sweet Potato Wedges
This is a great recipe for those days when you feel like you could eat a horse and chase the jockey! It is seriously filling, but won't overload with calories, and contains so much skin-friendly nutrition, that I swear you can notice the difference the next morning!
Ingredients
- 2 tbsp soy sauce
- 1 tsp honey
- 1 fresh tuna steak

- 1 large sweet potato

- 1 clove of garlic
Method
1. The first stage of this dish is to create the marinade, and marinate the tuna steak. Create the marinade by combining the soy sauce, and honey together in a small bowl. Ensure that all three ingredients are well mixed into a glossy emulsion.
2. Add the tuna steak to the bowl, and roll it over and over in order to coat thoroughly in the marinade.
3. Marinate the steak for one hour, 30 minutes on each side.
4. Once the steak has been marinating for an hour, it's time to start cooking. Cut the sweet potato into wedges (leaving the skins on), and place in a roasting tin.
5. Drizzle a little olive oil over the wedges, stir well, then place in a hot oven and roast for 20-25 minutes, stirring occasionally.
6. When the wedges have been roasting for about 15 minutes, heat a little olive oil in a shallow frying pan, and add the tuna steak. Fry for about 10 minutes, 5 minutes on each side.
7. Just before serving, finely chop the clove of garlic, and stir through the wedges. Return the wedges to the oven for another minute, then its' ready to serve.
8. Serve with a side salad.
Fatty acid Profile
Omega 3 1280mg
Omega 6 120mg