Garry Hughes - Weekend Winter Puddings!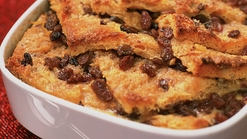 Friday 11 November 2011
Garry Hughes - Executive Head Chef, Shelbourne Hotel

Garry's Bread & Butter Pudding with a Winter Berry Puree!
Ingredients:
- 250mls Cream
- 250mls Milk
- 4 Eggs
- 125g Sugar
- 1 Vanilla Pod
- 10 Slices Bread - no crusts
- Left over croissants / Pain au Raisin / Pain au Chocolate
Puree:
- A knob of butter
- 50g - 100g of sugar
- Raspberries, Blackberries, Blueberries (or a fruit of your choice)
Method:
1. Put milk, cream and vanilla in a pot and bring to the boil.
2. Whisk the eggs and sugar together.
3. Combine all the ingredients and strain.
4. Place the diced bread-pastries into a large container, pour the mix on top and leave it to soak.
5. Spray aluminum moulds and fill three quarters full.
6. Bake at 120 degrees for 20 minutes or until cooked.
7. Make the berry puree by melting some butter in a pan. Add raspberries, blueberries and blackberries and add between 50g - 100g of sugar depending on how sweet or tart you like your sauce.
8. Serve your pudding with the puree and some custard!
Top Tips:

- Soak the mix overnight.
- Add Orange zest - even a chocolate orange bar!
- As an alternative use pear puree.
- You can use frozen berries instead of fresh!
Foodie Friday Q&A!
Four Live's expert chefs are at your beck and call to answer all your foodie questions!
Can't poach an egg? Trouble with your béarnaise? Or simply want to know what to do with a spare Spud?! Text, Twitter, Email, Call, send pigeon mail! Get your questions in to Four Live and Friday's chef will get through as many as possible during our 'Foodie Friday Q&A'! Send your questions to emails@fourlive.ie and our chefs will do the rest!