Presenter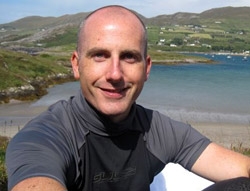 David Coleman is a clinical psychologist, broadcaster and author. A graduate of University College Dublin, David has been a practising Clinical Psychologist, working with children and families for over ten years. He has become well-known in Ireland as the presenter of the hit RTÉ Television series Families in Trouble, 21st Century Child and Teens in the Wild series 1.
A natural communicator, David's style was universally acclaimed as accessible and approachable. David has now successfully transferred his skills to radio where he is the weekly contributor to the Moncrieff Show's parenting slot every Wednesday on Newstalk. David also gives lectures and workshops to groups all around the country on topics ranging from parenting to communication. Speaking, in person, to thousands over the last year.
David enjoys the engagement with a live audience and his entertaining style is always acknowledged. Not content with his media and lecturing work David is also a bestselling author of Parenting is Child's Play, a guide to raising children. The book, a firm and continuing favourite with Irish parents, was published by Penguin Ireland in May 2007. His latest book, published in January 2010, is a guide for parents of teenagers called 'Parenting is Child's Play: The Teenage Years. David is now a regular weekly columnist with the Health and Living supplement of the Irish Independent every Monday.