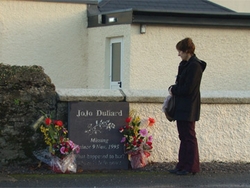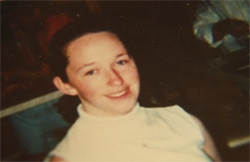 The Disappearance of JoJo Dullard
On November the 9th 1995, 21-year-old JoJo Dullard was making her way home from Dublin to Callan, County Kilkenny. At around 11:30pm she called her friend from a phone box in Moone, County Kildare, she was hitching and finished the conversation, when she got a lift, promising to phone back as soon as she got home. She has never been heard from since.
This year marks the 20th anniversary of her disappearance. We look back on the case and talk to her sister Kathleen.
Kathleen Bergin, JoJo's sister:
"When the phonebox was there I remember coming up at the very early stages and just being in the phonebox, I know it sounds silly, but I could just sense Jojo was there. I actually thought I could nearly smell her. And sometimes when I do come up I might light a candle in the church here and say a prayer for Jo and all the missing people."
"We're left in Limbo because we can't grieve, we don't know where we are and like she's there one minute and then she's gone. It's been 20 years. There's somebody out there who has information and we're appealing to those people to come forward but somebody knows something and we'd just like to see an end to it because poor JoJo is out there on her own somewhere and I think she deserves to be brought back now at this stage and laid to rest beside Mam and Dad."
Appeal:
Do you have any information on the disappearance of JoJo Dullard?
Did you at the time of JoJo's disappearance speak to investigating Gardaí and now feel that there is some additional piece of information that you now want to impart?
Can you help the family to have closure on this case?
There is a Crimestoppers reward for information in relation to JoJo's disappearance.
New DNA Database goes live
As of the 20th November last Ireland's DNA database went live. This database will become one of the most powerful tools in An Garda Síóchána's arsenal in detecting and solving crimes in Ireland.
DNA samples can now be taken for intelligence purposes, as a matter of course, during detentions.
The DNA samples will be checked against a database of all crime scene DNA 'stains' current and historic, all missing person lists etc.
Any offender convicted of a serious crime can now be asked to give a DNA sample. These samples will then be checked for matches to all previous crime scene DNA samples.
The database should prove Invaluable in combatting 'volume crime', such as burglary and theft, and also in more serious crime, cold cases and missing persons cases and identifying unknown persons.
Interview quotes:
Dr. Geraldine O'Donnell, Director of DNA, Forensic Science Ireland:
"This technology is going to help both in crime investigation but also with aiding identification of individuals. It allows us for the first time to put samples from missing persons up onto the database and these can be held for comparison purposes if a missing person or an unknown body is found in the future. So we have a much more powerful investigative tool, which will aid policing for generations to come."
Sgt. John Byrne,
Head of National Forensic Coordination Office:
"The new act that came into force on the 20th of November allows for, for the first time in the State we have the power within an Garda Síochána to take samples from anyone that's detained for a serious offence and a serious offence means an offence that is indictable that would carry a sentence of five years or more. That will include any offence such as theft, sale or supply of drugs, some assaults, burglary."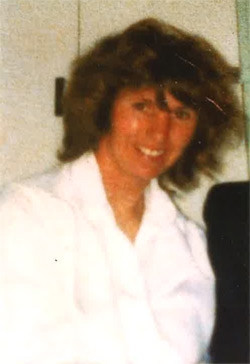 Missing Barbara Walsh
Galway woman Barbara Walsh went missing after a house party in Connemara in June 1985. The thirty-three year was a mother of seven, with five daughters and two sons; the oldest was sixteen, the youngest, was nine months old, at the time of her disappearance. No trace of her was ever found.
Now, 30 years on, Gardaí have reviewed the case and are following more than 100 new lines of inquiry. Last month they carried out extensive searches around Carna, County Galway.
Barbara's daughter Maura Walsh and her brother Padraig Lydon were in studio to appeal for information and Supt. Sean Glynn gave an update on the investigation.
Interview quotes from studio:
"I remember her just like yesterday really, you know you never forget. She was always at home with us and took care of us."
Maura Walsh, Barbara Walshs' daughter
Appeal:
Do you have any information on the disappearance of Barbara Walsh?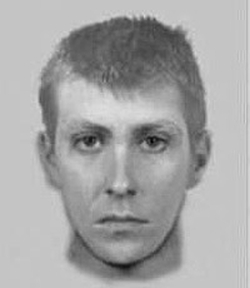 Aggravated Burglary Stillorgan, County Dublin
On the afternoon of Friday the 23rd October last, an aggravated burglary took place at a family home in Wesbury, Stillorgan. The twenty-two-year-old son was at home alone, when he heard noises downstairs in the house. Going down to investigate, he saw an intruder in the house. The intruder attacked the twenty-two-year-old with a hammer, striking him on his head. He then made his getaway through the kitchen window. Another man waited for him in the garden. The two fled through a nearby wooded area beside St. Raphaela's School. Money was taken from the house during the burglary.
The young man worked with the Gardaí photographic unit to develop an EvoFIT of his attacker.
Raider 1 was described as in his late teens 5'10" - 6' tall of medium build. He had fair hair cut short. He wore light grey tracksuit bottoms, a light grey zipped hoodie and had a country accent. He carried a hammer.
Raider 2 was also in his late teens, he was 5'10" tall of medium build and had mousey blond hair. He wore a light blue, navy and white rain jacket.
Appeal:
Do you recognise anyone's likeness from this EvoFIT?
Did you see anything suspicious in the Wesbury, Stillorgan area on the afternoon of Friday 23rd October?
Gda. Commissioner Nóirín O'Sullivan visited the Crimecall studio to talk about policing in Ireland in 2015 and plans for the year ahead.
Next Crimecall is on Monday, 25th January 2016 at 9.35pm