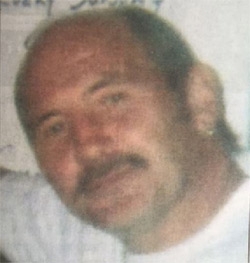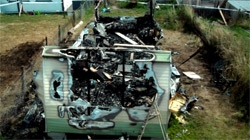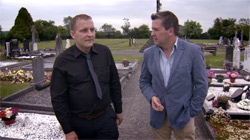 Suspicious death of Gerry Nolan in Kilkenny 24th July 2006 is upgraded by Gardaí to a Murder Investi
At around 4:30am on July the 24th, 2006, emergency services were called to Deerpark, just outside Castlecomer in Kilkenny. A mobile home was on fire. The blaze was brought under control but it was too late to save 44 year-old Gerry Nolan, who lived there. His body was found inside the burnt out caravan.
Philip Boucher Hayes talks to local Gardaí about developments in the case and visits Gerry's grave with his son Chris. We reconstruct Gerry Nolan's last movements.
DET. INSP. DEREK HUGHES
'The investigation since that time has remained open and one such line of enquiry this year has resulted in the investigation being upgraded to a murder investigation. New evidence has come into our possession as a result of that development this year'.
With the passage of time, it's nine years since Gerry's death, and often we know that people's attitudes and their perspectives on many things change over time, and we're appealing to those people who have that information to share it with us, to help us resolve this for Gerry's memory and for his family and for the wider community in Castlecomer'.
CHRIS NOLAN, GERRY'S SON
'I was walking over to my uncles, I was in Wales at the time and next thing I get a phone call from him and he said there was after being a fire. I just gathered up my things and went straight back to Ireland.
It's a nightmare so it is.
Appeal:
Do you have any knowledge of Gerry's murder that may now assist with the investigation?

Please come forward, there's no need to be afraid'.