Craig talks to the Emma O'Reilly about exposing the doping scandal in cycling.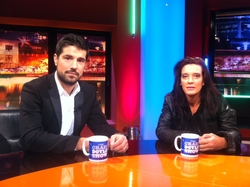 Craig is joined by football legend Ron Atkinson, actor Simon Delany and regular panellist Eric Lalor. Ron talks about his vast career in soccer, and the scandal that almost ended it. Simon chats about playing Vince Vaughan's brother, and being a 'Dad' to an animation!
Emma O'Reilly joins the panel to share her story of blowing the whistle on doping activities on United States Postal service cycling team, and Lance Armstrong.
We're joined in the studio audience cyclist and journalist Shane Stokes, and football team, the Dublin Devils.