It's all about burgers, Beirut and cupcakes!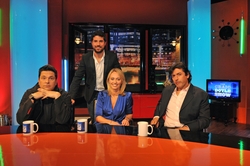 Craig is joined by Dom Joly to discuss his childhood in Beirut, his 'monster' hunting adventures and his new show 'Fool Britannia'. Jean-Christophe Novelli and Clodagh McKenna talk about food, and life in the kitchen. And Paddy McKenna shares his experiences at this year's Ploughing Championships.
Craig is also joined in studio by two of the first contestants to be evicted of the new series of Masterchef, Richie Crowley and Keith O'Sullivan.