Today Competition
27.10.16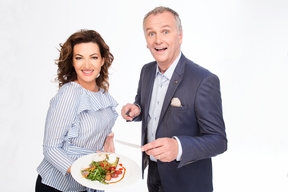 This Thursday afternoon on Today, we have a Halloween themed, fun competition for you at home!
To celebrate Halloween and all things ghostly, this week on Today we're playing 'Pick Up a Pumpkin' and are looking to give you the chance to win the jackpot prize of €2,000.
Later this evening, we'll be calling the lucky winner live on-air and you can then choose which pumpkin contains either €1,000 or the jackpot prize of €2,000 - it's either in the pumpkin belonging to Dáithí or the one belonging to Maura - who holds the jackpot?... YOU decide!
So, whether you feel like a nice break from those dreaded bills, or trick/treating the family... or better yet - treating yourself to a nice Bank Holiday break... then this is indeed the prize for you!
For a chance to play 'Pick Up a Pumpkin', answer today's question and call or text the numbers below:
Which of the following is an iconic Alfred Hitchcock horror film from 1960?
Trick
Treat
Psycho
If you know the answer, call or text the competition line:
ROI: 1516 71 71 44
NI: 0904 7266 544
text COMP followed by your answer, name and location to 57117 (ROI and NI).
Each text entry costs €1.50 (incl VAT) or GBP £1.20. Calls from the eir network will cost €1.52 and from a BT landline will cost GBP £1.23. Calls from other networks and from mobiles will cost more.
Please note, the person named in the entry must be aged 18 years or older as at date of entry.
This competition will close today at 5.30pm, 27th October 2016. Please do not enter after this time as you will be charged for your entry, but your entry will not be included.
If required, you must be available to take a call from the Today team and Dáithí Ó'Sé and/or Maura Derrane on 27/10/16. If requested, the entrant must reconfirm the correct answer to the competition question live on-air during the phone call on 27/10/16 in order to win the prize. If the entrant fails to take/answer the call or is deemed by RTÉ to have answered the question incorrectly, the entrant forfeits his/her opportunity to win.
Participation/entry denotes acceptance of all associated competition terms and conditions as listed below.
COMPETITION TERMS AND CONDITIONS:
Service Provider: Phonovation. Tel: 0818 217 100.
Please do not enter outside of the advertised competition open and close times and date(s) as you will be charged, but your entry will not be included in the draw. Competition may be closed if watching on catch-up services, please check dates and times.
Entrants must be aged 18 years or older as at date of entry and a resident of the Republic of Ireland or Northern Ireland in order to qualify as the prize winner.
Promoter reserves the right to request proof of age, verifiable by birth certificate or passport only, and proof of residency, verifiable by recent utility bill only (issued within 6 months of win).
The Today cash prize winners between 24/10/16 - 28/10/16 will each receive €1,000. In the bonus participation element of the programme, if the pumpkin chosen live on-air designates the winner as receiving double their original prize value, then €2,000 will be issued in place of the original prize of €1,000.
Prize money is issued to the winner by euro cheque, made payable to the winner, allow 28 working days for delivery.
The prize is non-transferable.
In order to claim the prize, the winner will be required to sign any documentation as may be requested by the Promoter relating to acceptance of the competition prize, terms and conditions and including, but not limited to, waiver of liability release in favour of the Promoter and such other persons as may be determined by the Promoter.
Employees of RTÉ, Phonovation and their associated promotional partners, companies or suppliers and their immediate family members are not eligible to enter/win.
In the event that a call to a finalist(s) cannot be completed on-air due to technical issues on the part of RTÉ or time restrictions, RTÉ reserves the right to announce the winner(s) on-air on the next programme, in which case the finalist(s) will not be required to take Dáithí and/or Maura's call in order to be deemed the winner(s).
RTÉ's decision in relation to selection of competition winner is final and no correspondence will be entered into.
RTÉ standard competition terms and conditions also apply.