Republic of Telly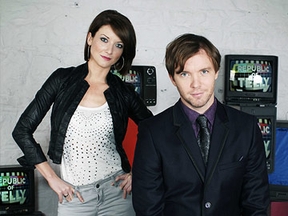 The Republic of Telly is back. Dermot Whelan is our new host to skewer everything in pop culture and take a wry look at what's happening throughout Ireland and the world. He'll be hosting a show filled with new comic talent and twisting tv till it breaks.
We've got celebrities like you've never seen them before - Daithí O'Sé as James Bond, Breffny Morgan rapping - gangsta style - and even Crystal Swing get down and do some Dirty Dancing.
The irrepressible Jennifer Maguire is back to insult the rich-and-famous and ask the questions that nobody else would have the balls to. She'll also be visiting a town near you looking to air everyone's dirty laundry and drag those skeletons out from inside your closet.
The Republic will be welcoming regular contributions from some of the brightest comics around. From the Rubber Bandits telling us about the real Ireland, Gearoid Farrelly reporting from the seedy underworld of illegal fake tanning, to Damian Clark investigating what people really get up to on a night out... And if you've any personal problems you need advice on, give us a shout - we'll answer them sensitively in our own, unique, way.
Music lovers won't want to miss our unique songs and videos, whether its original songs or our spin on the classics.either way, our version will be. unforgettable.
Oh, and we'll be taking apart Telly too.did we mention that already?
Want to be part of our studio audience?
Interested in coming along to one of our recordings?
Then please email us at: Tellytickets@rte.ie for futher information.
The show is strictly over 18's.