Republic of Telly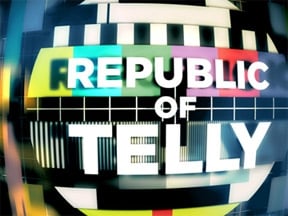 So, you want to be part of the Republic of Telly studio audience! Great choice, you clearly have excellent taste. The Republic of Telly records from 8:00PM to 10:30PM on Sunday evenings, so we need audience members to be in RTÉ Donnybrook by 7:15PM - there's free wine, beer, snacks and whopper tunes to entertain you before we make you laugh!
To apply to be part of our studio audience, please complete all sections of the following Audience Ticket Application Form IN FULL. The information provided will be treated as private and confidential, and not used for any other purpose. Should your application be successful, we will be in touch by phone or by email. The Tickets are complimentary.
Regrettably, as demand for tickets exceeds the number of seats available, we cannot guarantee that every application will be successful.
PLEASE NOTE THAT TICKETS ARE STRICTLY NON-TRANSFERABLE, AND ATTENDEES MUST BE OVER 18 - PHOTO ID WILL BE REQUIRED
Simply CLICK HERE and fill out the online application form for a chance to be part of the audience...
Watch out for extras and previews online at https://www.facebook.com/republicoftelly