Send a Message to 1D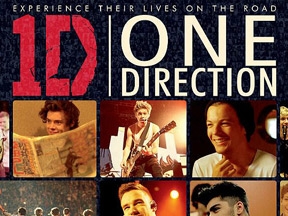 #LOVE ONE DIRECTION?

WANNA SPEAK TO THE BIGGEST BOYBAND IN THE WORLD?

NOW'S YOUR CHANCE!

WHAT IS IT ABOUT HARRY STYLES THAT ROCKS YOUR WORLD?

WANNA ASK NIALL WHERE HE BUYS HIS RUNNERS?

NOW YOU CAN!
If you're a die-hard Directioner and you know it: TRTÉ want to hear from you!
elev8 are making a One Direction: This Is Us movie special and they'd love YOU to be part of the show. This is your chance to speak directly to the most famous fivesome in the word!
Just record a 20 - 30 second clip telling us why you love the boys so much whether it's Liam's dance moves, Zayn's tattoos, Niall's sweet voice, Louis' charming personality or Harry's curly mop of hair!
Better yet give the boys a shout out -you never know- they may be watching!
Clips will be used on RTÉ TWO in the opening sequence of the elev8 This Is Us movie special. Just make sure to get permission from your parent/guardian before you upload! You can record your message on anything at all - phone, laptop, digital camera or webcam. Email your clip to directmessage1D@gmail.com by midnight on Tuesday 20th August.
Or upload on this page just:
1. HIT THE 'SELECT FILE' BUTTON ON THE RIGHT HAND SIDE OF THIS PAGE
2. CHOOSE YOUR VIDEO FILE
3. FILL IN YOUR NAME AND PARENT'S EMAIL ADDRESS AND INCLUDE YOUR AGE AND WHERE YOU ARE FROM IN THE MESSAGE BOX.
4. HIT 'SEND NOW'
5. BE PATIENT, WAIT FOR YOUR FILE TO UPLOAD
6. DON'T CLICK AWAY FROM THE PAGE UNTIL IT IS FULLY UPLOADED!
Files must be below 15MB in size