Don't Tell the Bride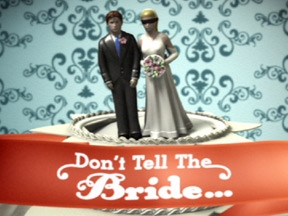 Calling all Brides-to-Be for New Television Show!
Would you trust your man to organise the wedding of your dreams on his own?
Have you been dreaming of your wedding day since you were a little girl?
Do you know exactly what you want and how your day should look?
Have you got scrapbooks full of ideas and are you so excited about YOUR BIG DAY?
If your expectations are high but your funds are low, we could help.
COCO Television is developing a new TV series called 'Dont Tell The Bride' for RTÉ Television. We are looking for couples who want to get married and in return they get a free €10,000 wedding. But, there's a twist..The GROOM has to arrange the wedding on his own, every detail from the venue, the flowers, the invites, even down to the dress!
If you are interested in talking us please contact COCO TV on (01) 497 0817 or email info@cocotelevision.ie