Desperate Houses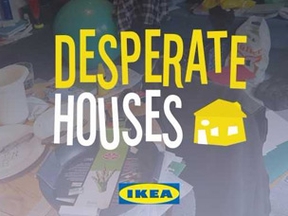 Let's face it we are a nation of CLUTTERERS? We love to collect things, drag them with us each time we move home, stack it in corners, on shelves, in spare rooms, and continually promise to sort it out.but we never do.
The hit RTÉ One series is back! Each week Desperate Houses takes a cluttered home - this could belong to a family, an individual or a group of friends. We tackle their hoarding head on and offer them real solutions with an entire makeover of two of the worst rooms in their house, all done with the help of IKEA Ireland.
Do you have piles and piles of useless clutter in your front room? Do you have trouble letting go of the past? If so we want to hear from you.
To apply visit www.cocotelevision.ie/desperatehouses where you can apply online or download a paper application and return it via post