2011 Series: Programme 3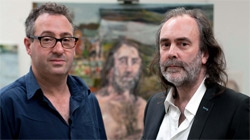 For Irish people, John Waters says in the documentary Naked, "we always assume nudity is about sex." On the other hand, a nude portrait isn't just an image of sensuality, it's an exposure of character. Naked charts the absorbing story of the relationship between three artists - Sahoko Blake, Nick Miller and Una Sealy - and their sitters, from apprehension to revelation.
As the portraits take shape, Olympic swimmer Melanie Nocher, writer John Waters and art critic Gemma Tipton discover some unexpected truths. And in the end, they - and perhaps the television audience - will see themselves very differently.