2011 Series: Programme 2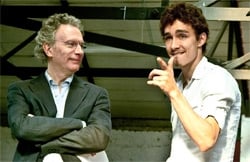 Since his introduction to theatre by his father Sam, a bus driver and amateur actor, the writer Fintan O'Toole has sworn by great plays which reveal the truth about our society.
And throughout his career in Ireland and the USA as a critic, biographer and columnist, he has made passionate, provocative connections between the way we live and the theatre we make and watch.
Joined by internationally acclaimed director Garry Hynes and actors Tina Kellegher, Garret Lombard, Sean McGinley, Marie Mullen, Roxanna Nic Liam and Robbie Sheehan, he takes a fresh look at the thrilling occasions when Irish theatre which touched a raw nerve.
From Sean O'Casey's looters and prostitutes on the edge of a revolution, through John B. Keane's murderous inhabitants of 'The Field' and Sebastian Barry's portrait of a chillingly familiar ex-Taoiseach, playwrights engaged passionately with the world outside the theatre walls.
So what happened to theatre during the Celtic Tiger?
And will playwrights rise now to the challenge of dramatising a society in crisis?