2011 Series: Programme 1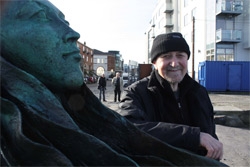 The last 25 years has seen a noticeable increase in the number of permanent public sculptures in our towns, housing estates and roadways.

In this engaging documentary Joe Duffy explores the colourful and controversial area of public art. Around Dublin and beyond, Joe meets the curators who decide on the sculptures in our streets and parks, the artists who make them, and the public who love and hate them.

Some of the best loved and less loved pieces of public sculpture feature in the programme, including Dublin's most famous piece, the 'Anna Livia', as she makes a dramatic return to the banks of the River Liffey.