2010 Series: Programme 3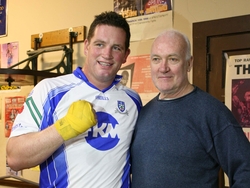 Internationally-renowned abstract painter Sean Scully has been fascinated by boxing and boxers since his childhood in post-war East London - and has practised both boxing and martial arts. In The Bloody Canvas, he embarks on an idiosyncratic journey into the world of the ring.
Along the way, he travels to the world-famous Petronelli Gym in South Boston to meet Kevin McBride, the Irishman who finally ended Mike Tyson's career. In Rome, Scully remembers the warrior painter and pugilist Caravaggio. Back in the States, he meets famous boxing painter LeRoy Neiman in New York, visits world heavyweight legend Gene Tunney's grave and reflects on the dramatic photographic archive of Robert Mapplethorpe.
In Sheffield, legendary Irish boxing trainer Brendan Ingle makes the case for boxing as a higher form. And in Scully's apartment and studio in Barcelona, former World Champion Barry McGuigan joins him to look back at the mutual fascination between art and boxing, between the men of art and the men of action.