2010 Series: Programme 2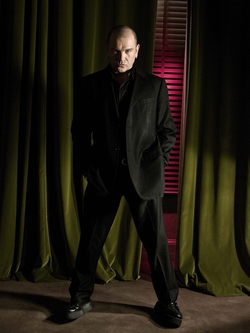 Gavin Friday - vocalist, musician, producer, painter, actor, trusted ears of U2 and onetime Virgin Prune - is 50. Ladies and Gentlemen, Gavin Friday is the story of the man, his music and his enduring friendships and collaborations.
Born Fionan Hanvey in Dublin in1959, Gavin Friday exploded onto the drab landscape of 70s Ireland - and Late Late Show screens - with the calculatedly outrageous punk band The Virgin Prunes. His friends and fellow Prunes, including Bono, The Edge and Guggi Rowan, remember the tension between the smothering claustrophobia of a moralistic society and Friday and his band-mates' pushing of sexual, visual and performance boundaries. The band's eventual disintegration led on to his own career in music and film, as boyhood friends rose to become the biggest rock band in the world.
And alongside the very public life of Gavin Friday, the documentary tells the intimate tale of Fionan Hanvey's powerful and often antagonistic relationship with his father, of the disintegration of his marriage and of his mother's profound acceptance of her unusual and challenging son.
Ladies and Gentlemen, Gavin Friday is the story of a multi-talented and restless cultural figure and of a Northside Dublin boy who, under the guiding star of David Bowie, is determined to stay forever young.