2010 Series: Programme 1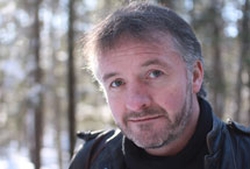 Crime writer John Connolly is the focus of the first programme. In 1998 Connolly won the largest advance ever paid to an Irish writer (£1.3m) yet he doesn't write about Ireland or the Irish and his grisly crime novels set in Maine have been compared to those of Stephen King and Thomas Harris. In Connolly's dark, lyrical world, supernatural forces hide behind the membrane of reality and wait to mete out justice to the fallen.
Connolly's is an utterly original voice in Irish writing and his masterly evocation of a series of gruesome villains has seen him hit the bestseller lists in the U.S., U.K and Ireland. It is timely to screen a documentary about Connolly since, with 12 novels under his belt, he is a writer in full command of his genre and is already branching out beyond the crime novel into fantasy fiction with his recent works 'The Book of Lost Things' and 'The Gates'.
Shot in Dublin, Maine, Baltimore and Washington, John Connolly: Of Blood and Lost Things traces 40-year-old Connolly's literary trajectory from jobbing freelance with The Irish Times newspaper to publishing superstardom on the sale of his first novel, Every Dead Thing, which launched his flawed protagonist, P.I., Charlie (Bird) Parker. The roots of the novel and its location go back some years to his coverage for the Irish Times of the murder of Sri Lankan prostitute Belinda Perreira in Dublin and a student summer spent in Portland, Maine.
Like Parker his protagonist, Connolly is something of an outsider. Not coming from a literary home, he went directly from school to his first job at the then Dublin Corporation's Housing Department where he saved hard for university. His entrance to Trinity College to study English became the foundation for all the interests which are apparent in his writing. Influences like the writings of Ross McDonald or the Metaphysical Poets or the Jacobean Revenge Tragedies.
Featuring dramatised readings from his work John Connolly: Of Blood and Lost Things examines the sense of place and atmosphere in Connolly's work but also includes a biographical narrative of his Dublin childhood and journey toward becoming a writer. The documentary features interviews with iconic American crime writer George Pelecanos; David Simon, creator of TV's The Wire; American novelist and friend Laura Lippman, and fellow Irish crime writer Declan Hughes. During the shoot the documentary was given unique access to accompany Connolly on a research visit to Maine State Prison, a Super-Max facility housing over 900 prisoners at Warren, Maine. The documentary also follows Connolly's meeting with his first teacher, Kathleen Foley, who encouraged his writing at Loreto NS Crumlin 35 years ago.