Series 2: Episode 2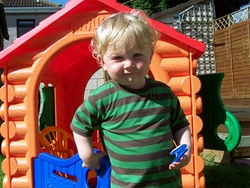 Oscar Devlin
In this programme we catch up with 5 more of our 21st Century families, whose last year has passed in a whirlwind of nappy changing and night feeds. In this second programme, one Dublin family discovers that having 4 children under 4 is just as much work as it sounds... if not more!
For another family, tough decisions are faced as mum is forced back to work and dad finds himself thrown into the the role of primary carer. And for one Swords couple, the reality of providing for their three children, means that their days are spent commuting and cooking without ever seeing each other.
We'll also be looking at communication - one of the most significant development to occur during our infants first two years. We'll not only examine how our infants learn to talk, but we'll look at what that new skill can do for both parent and toddler...
The Families
Adrienne Redmond and Mark Lonergan
In the Lonergan's household it's all go, all day! With two sets of twins under four years of age, Adrienne and Mark live in a vortex of feeding, changing, bathing and entertaining.
When we first met the couple in the last series, Adrienne was pregnant and had just discovered that she was going to have to give birth to her second set of twins - a set of identical twin girls.
Having just moved to a new home, the couple were unsure of how they were going to make their life work after the new arrivals. They felt that the best option was to send their three year old twin boys away to their grandparents, which David felt was a bad idea. When the new twins eventually did come home, the boys were sent away for a few days, but it wasn't long before everyone was reunited under the same roof.
In this second series, life is busy for the family. As the girl's mobility has grown, so to has the work load for Adrienne and Mark. Although the girls are more independent and mobile, this has actually increased their parent's work load and the couple struggle to give time and attention to everyone.
Ashling Ruane
When we last met Ashling Ruane in programme one, she revealed that the depression which she had suffered from before the birth of her daughter, had returned.
At a specially set up 21st Century play session, we also discovered that Ashling's daughter Caoimhe was insecurely attached to her mum. After David gave Ashling some tips on how to improve her relationship with her daughter, Ashling worked hard and the pair's relationship improved enormously.
In this programme we revisit Ashling to see how she is getting on. Now that Caoimhe's communication skills have improved, Ashling is finding it easier to see her as a little person and this new development has improved the attachment between the two immensely. However it's not all happy smiles in the house.. A trip to a DIY store does put other relationships in the house to the test!
Selina and Robbie Bonnie
Selina and Robbie Bonnie waited for 14 years for a baby. Having endured both the death of a daughter shortly after birth, as well as numerous miscarriages over the years, the couple's new arrival was eagerly awaited. However when we met them in series one, it had all started to go wrong for the pair. Selina, a wheelchair user, had suffered some breathing difficulties and after being admitted to hospital suddenly collapsed. An emergency section was performed and for several days, it was touch and go for both mum and daughter.
Happily, when we meet them in series two, both baby Saira and Selina are healthy and well. However, having spent the last year with her daughter, there are tough times ahead. Selina has never been parted from her daughter for more than an hour and faces the end of maternity and sick leave. As Robbie is unemployed, there is no option but for Robbie to become a stay at home dad whilst Selina leaves her baby and goes back to work.
Carmel and Frank Mahon
When we last met the Mahons in programme one, they had just discovered that their son Richard was insecurely attached to his primary carer, stay at home dad, Frank. After a visit from David, both Frank and Carmel worked hard and it was clear that this had a really positive affect on Richard.
In this programme, we look at how the couple communicate with their children. Although they don't believe in baby talk, they are actually one of the most effective communicators of all the 21st Century families and this has had a remarkable impact both on Richard's development and on his communication skills.
Ade and Ola Onafuwa
When Ade and Ola Onafuwa came here from Nigeria, they were looking for a new life away from the political turmoil in their country. When we first met them in series one, they had two children already, Fifi and Ogo and the couple were hoping for another boy to add to the family.
However when the new baby finally made an appearance she was very definitely a girl and Shanessa Inioluwa home to Swords to a warm welcome from the Christian community.
In series two, times have been tough for the family. Ade has gone back to college, facing a long commute from Swords to Dun Laoghaire. Ola has had to return to work which means getting up early to make the dinner for that evening. Money pressures are troubling the couple.
However the one thing keeping everyone going is the children. Whether it's Ogo's developing Dublin accent, Fifi's ability to count to ten in Irish or Shanessa's ongoing development, the children keep their parent's spirits intact.
Communication
Over the course of this second series, all of our 21st Century children learnt their first words. This was a complex process which started very early on in their lives when they began to make early sounds, which their parents then reacted to. Whilst initially our babies had no idea that the sounds that they made could cause a reaction, it was their parents talking back to them which taught them that the basic concept of communication existed.
From that point our babies were on a steep learning curve. Everyday they were bombarded with information in the form of both verbal and non verbal communication which they began to process. Long before they learnt to actually utter words, our babies learnt about body language and facial expressions from those around them. And most importantly, they began to learn about how to use it themselves.
They then began to be driven to learn actual words. They started to gesture and as a result, their parents began to label objects, an integral part of the learning process which would increase our 21st Century children's word power hugely in the first year.