How YOU can star on elev8!
February 11 2013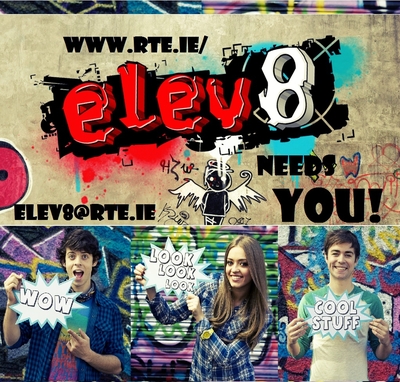 Have you ever been sitting at home watching elev8 and thought, "Hey – I could do that!" Yes? GOOD! Because elev8 has lots of chances for you to get your face on the telly-box! Have a look-see at the below, and if any of them tickle your fancy just email us at elev8@rte.ie with the title in the subject bar and your contact details!
Only the BEST of friends need apply for the elev8 B.F.F QUIZ… Think you and your bezzie mate are up to the challenge? Then tell us why you guys should appear on the show to take the ultimate friendship challenge, and win some GREAT prizes!
Our Seán is one messy guy… Diana and Ivan are ALWAYS cleaning up after him, so to make it more fun they've turned it into a game! If you fancy taking our memory challenge to GUESS THE MESS and remember the obscure items on Seán's messy desk in exchange for prizes, then drop us a line…
If there's something bothering you, then just ASK ELEV8! NO problem is too big or too small, just email us and we'll get our team of kid panellists & celebrity friends on the case – and remember, a problem shared is a problem solved!

How's your hearing..? 'Coz elev8 have the ultimate sounds challenge just for YOU! BAT EARS pits a kid against one of the elev8 presenters in a battle-of-wits to guess some exceedingly tricky mystery sounds – think you're up to the test? Then you better get e-mailing us!
Have you got a pernickety parent, a sly sibling, a grumpy grandparent, or a menacing mate who could do with some PAYBACK?! The crack-team of elev8 Superheroes are on hand to deliver a swift pie-in-the-face to the wrong-doers of elev8 viewers – email us with YOUR story!
Looking forward to hearing from you!
-Ivan, Diana & Seán :)