CAKE! NOMNOMNOMNOM....
February 23 2012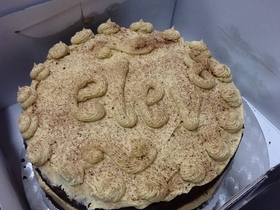 A humungous THANK YOU to ultimate elev8 fan BRIAN MCCORMACK for bringing in this AWESOME and MASSIVE cake...it was gone in about TWO SECONDS! We were the happiest tv show in the land!
We know it took loads of effort and work to make this sugary masterpiece!
If you want to send stuff into us, here is the address: elev8, TRTÉ, RTÉ, Donnybrook, Dublin 4