What a CROC!
February 16 2012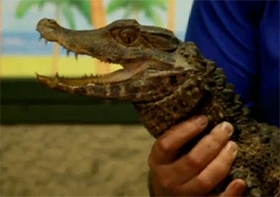 Yesterday we had a CROC in studio, and it scared EVERYBODY!
Check out the pic, IT GLARED AT US LIKE THAT FOR THE WHOLE TIME IN STUDIO.
On a scale of one to AGGGGGH!!!, how scared would you have been?
On a less scary note, here are a few facts about crocodiles. Leave your own in the comments:
1. You can tell a crocodile and an alligator apart by their snouts, although you would never want to get close enough to tell!
2. Crocodiles make nests of eggs called clutches
3. 99% of the baby crocodiles are eaten in the fist year of life by large fish, monitor lizards, herons and ... adult crocodiles
4. The Nile crocodile can eat up to half of its body weight at one time!
There was also a POISONOUS TOAD, we all kept a safe distance!
TOAD JOKE:
What kind of shoes do frogs wear?
Open Toad!!! HA!!!
Do you have any animal jokes? POST THEM BELOW!!!