NEW STUFF on elev8!
February 8 2012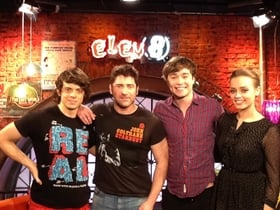 NEW STTTTUUUUUUFFFF!!!
WE ARE having about as much fun as Jedward in a glitter factory this year! So far, elev8 has brought you JLS singing with Diana, BIG TIME RUSH naming their album after our show, and Ivan getting EVEN MORE stupid questions wrong in Ivan IQ. On top of all that, we get to take pictures with people like Brian Kennedy from The Voice! Its about as much fun as a penguin doing a handstand in here!
Our show is so JAM-PACKED full of new stuff IT IS MAKING US AS DIZZY AS A YOYO ON A MERRY-GO-ROUND. So we thought we would give you the run down, the 'what's hot', the ULTIMATE TIPS to the elev8 WEBSITE! It's our favourite :)
Would you and your class like to go to DISNEYLAND PARIS? WELLLLL???? All you have to do is make a cake to enter this outrageous competition! Check it out HERE
Take a gander at our AWESOME AND NEW INTERACTIVE MAP of Ireland! It's on our Show Off Or Get Off page. We have put the video for every entrant into the county they are from. So, take a tour of Ireland and check out all of the talent this country has to offer! DON'T FORGET TO VOTE HERE, IT IS VERY IMPORTANT :)
SCATTY SUZY is a bit...well...scatty. She keeps forgetting to do her homework on time, and her teacher is putting the pressure on. CHECK OUT HER WEBSITE HERE, and PLEASE leave her a comment to help her find the facts she needs. PULL YOUR SOCKS UP SUZY!
elev8 SUPERSTARS is a sports competition of epic proportions. The show has pulled together 6 sportsy kids of COMPLETELY DIFFERENT disciplines and made them complete REALLY TOUGH challenges. Check it out HERE! You can also check out their profile page and comment on which you think will win!
ON THIS DAY is...hilarious! Ivan, Diana and Sean take a trip through time to act out what happened on a certain date in history. Check out past episodes HERE!
WE CANNOT WAIT TO UPDATE YOU on even more amazing things! We have been TERRIBLE at updating our blog, but we promise we will put a lot more up from now on, so come back for more CRAZY PICTURES, WEIRD NEWS, COMPETITIONS AND (most importantly) LAUGHTER!
We wouldn't have a show without you guys, so keep IN TOUCH!
Loads of LOLs, elev8 :)