The Script, Cute Monkeys and a Lot of Fun!
March 14 2011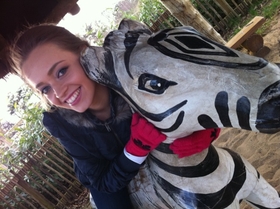 Hi everyone,
Happy Monday!
I come to you with tales of my weekend.
But before that- what did YOU get up to?
My weekend kicked off with a bang when I went to see the Script in the o2. They are one of my favourite bands EVER so it was amazing to see Danny and the rest of the guys live! They put on a really great show and I think Rusty Halo was my favourite song... The Man Who Can't Be Moved was excellent too and the crowd went wild singing along.
I've seen the guys live three times now and each time they get better and better. I haven't met the band properly yet but I met Danny once when he was in RTÉ. Ivan and I ran down to the Late Late show where they were rehearsing to say a quick hello and he was really nice. Maybe one day I'll get to interview them!
Because Sunday was such a beautiful day I thought a trip to the zoo would be fun and guess what- it WAS! I fell in love with the cute pink bottomed monkeys and the giraffes were GORGEOUS. They weren't out on the savanna by the time we got to see them but that wasn't a problem because it meant that we could see them from up close. They're so beautiful and elegant and by far the strangest looking animal I have ever seen but I can't help but want one as a pet :D
What is your favourite animal?
Diana x