We're 100 years old!
March 10 2011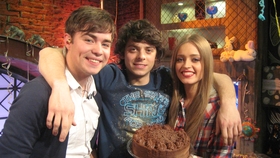 Hi everyone :)
I just wanted to share with you this photo from our 100 show anniversary! We had a delicious chocolate cake that we all made sure to have a piece of... best cake I have ever eaten... in my whole life. And I'm not much of a cake person!
It's been so much fun over the past 100 shows- if I had to pick a favourite memory I would be sitting here uuum-ing and aaah-ing for days. There's been too many fun times to choose just one. We've had such amazing guests on... I really loved the Harlem Globetrotter's and of course Justin Beiber- I know he wasn't on the show in person but I got to interview him and that still counts!
Sean and Ivan are on the show today- Thursday, and I'm here reminiscing of all the fun times. I've just come back from filming with the guys in Scoil Mologa in Harold's Cross- Sean and I had such a fun morning!
Well I hope you too are having a lovely day,
Diana x