Double Trouble- it's JEDWARD!
February 8 2011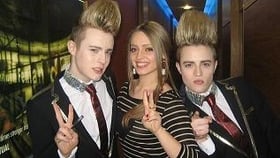 "You're going to interview Jedward."
Hearing that sentence was music to my ears! I've always loved the Jedward twins, they're fun, full of energy and you never know what to expect from them. I love that they went on X-Factor believing in themselves and what they have to offer and that they didn't let anyone get them down- look how it's paid off :D
I was a little bit nervous meeting the two, but the interview was over so quick and it didn't really hit me what had happend until it was over!
As one of the top 10 in elev8's gr8s, they deserve their spot... especially after seeing their reaction to being voted by you guys. They were over the moon! They even sang a special song for us as a thank you, you'll have to keep watching elev8 if you'd like to see it! It's coming to a small screen near you very soon.
Why do you love the twins so much?
x