TV Blog
Thursday 10 Apr 2014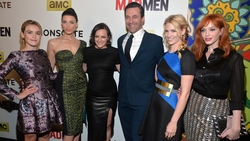 John Byrne's TV choices for the week ahead (Dates covered: Sat Apr 12 – Fri Apr 18).
As ever, lots of new or returning shows, including another run of Britain's Got Talent and the final season of Mad Men – while through the exit door go gems such as True Detective and Nurse Jackie.
Pick of the week
Mad Men, Wednesday, Sky Atlantic
Here goes with the seventh and final season of the critically adored and multi-award-winning 1960s' period drama (that very few people bother to watch). The first seven of the 14 remaining episodes debut this year with the ...