Movie Review
Journal de France
Thursday 30 Jan 2014
Director:
Starring: Raymond Depardon, Claudine Nougaret
Duration: 100 minutes
1 of 1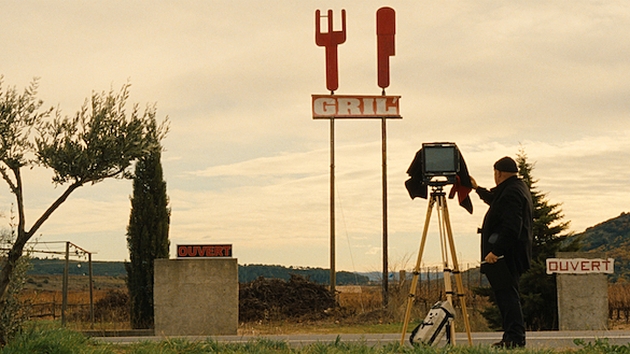 The documentary Journal de France somehow bites off more than it can chew. It has a structural problem at its core which begins to irritate as you sit and take in the absorbing flow of images. The problem is that it is not sure of what it actually wants to do and thus packs in as much as it can to compensate for a lack of focus.
It certainly sounds like a great premise. Veteran French photographer and film-maker Raymond Depardon sets off in his camper van to photograph a France he hardly knows, using his trusty old field, or slide camera. He has been so busy through 50 years of filming in war-torn, dangerous places - sometimes too in the corridors of power in Paris - that he hardly knows his native land. We can see he has a genuine interest in ordinary people and places and he wants to photograph them at ease.
So he sets up his ancient camera in front of that tobacconist's shop. The 1950s style façade, the street corner, the hilly street backing off it, they take his fancy. So, this self-effacing, enigmatic man travels through the landscape around the river Meuse that he scarcely knows, but it's a mere smattering. He grew up on a farm in the Rhone-Saone region, but we learn nothing about that at all. We see him at work, setting up his camera on the roadside. talking a little about his art. He is not talkative, he is more of a brooder, a thinker.
We see him sitting in his van, sizing up the light, talking about the sun being too high for pictures. "Sometimes I feel lousy the whole day and sometimes I am in a great mood all day," he remarks, musing matter-of-factly. He looks a little like Picasso, balding and short, with perceptive blue eyes.
You want to know what motivates him, why he is a photographer in the first place. But his partner and collaborator Claudine Nougaret does not ask him, maybe he doesn't want such questions. Most likely he has steered the film way from the man he is now, it's easier maybe to concentrate on past achievements. Like the time he got Nelson Mandela to sit in silence for a minute on film in 1993, not long after his release.
Or the two years he spent living with rebels in Chad, and the vital role he played in the release of a French hostage. One can't help thinking that in the end, Raymond knows he is only as good as his last shot. He has moved on from wars and disaster zones, he doesn't talk about Mogadishu, or Caracas, or Santiago de Chile. So you think about him sitting in that camper van judging the light and shade in the stillness of a summer day in France. And you realise that you have seen too little of all that and it's a pity.
Released at the IFI and selected cinemas.
Paddy Kehoe