Movie Review
Superbad
Thursday 13 Sep 2007
Director: Greg Mottola
Starring: Jonah Hill, Michael Cera, Christopher Mintz-Plasse, Seth Rogen, Bill Hader, Emma Stone and Martha MacIsaac.
Duration: 114 minutes
1 of 1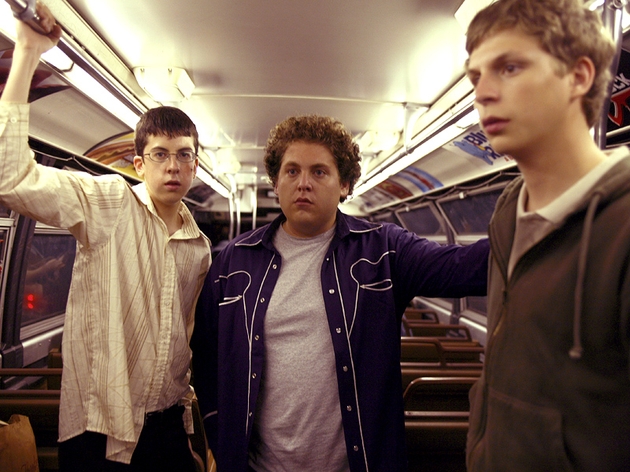 Cinema snobs could point at 'Superbad's $103m-plus at the US box office and dust off HL Mencken's quote about no-one ever losing money underestimating the taste of the American public, but such haughtiness overlooks the fact that the funniest things are often the crudest. And in 'Superbad's case the sweetest too. This story of two best friends and a third wheel's wild night might have a lot about balls, but there's plenty of heart too.
With their last day in high school almost upon them, the studious Evan (Cera) and boorish Seth (Hill) find themselves ever more perplexed by two of the great issues for young men: alcohol and sex - and principally how to use one to get the other. With Seth's crush Jules (Stone) organising a party for that night, and Evan's dreamgirl Becca (MacIsaac) set to be there, the duo volunteer to get the drink.
Helping romance blossom, they hope, is Fogell (Mintz-Plasse), their nerdy classmate who's liked by Evan and barely tolerated by Seth. Fogell's the one who's going to get the fake id and buy the booze - that's if he can persuade the cashier that he's a 25-year-old organ donor from Hawaii called McLovin'. Just McLovin'.
From 'Animal House' through to 'Dazed and Confused' and all the way up to 'American Pie', we've been here plenty of times before, but one of 'Superbad's two great achievements is that it finds so many good gags in such tried-and-tested material. The one liners and repartee are class and the situations the trio find themselves in - befriending idiotic police officers, crashing a bad guy's party - are priceless.
The other is the casting. In former 'Arrested Development' star Cera, Judd Apatow alumnus Hill and newcomer Mintz-Plasse director Mottola has three excellent leads who are so likeable and believable as the on the town misfits that you can see yourself in each of them from time to time. They all get cracking dialogue and scenes but it's no small injustice that Mintz-Plasse didn't appear on the initial posters - he steals the show here as one of the best characters since Stiffler in 'American Pie'.
While the mayhem and vulgarity are top notch, the script by 'Knocked Up' star Seth Rogen and best friend Evan Goldberg also gets the nature of friendship between young men exactly right - the little things that fester, the concerns that can't be raised and the affection that can't be expressed. There's enough to the relationships and the characters for the further adventures of Evan, Seth and Fogell, and even if we don't get a sequel, there's so much here to enjoy that you'll watch again and again.
"Makes me feel young again," sighs McLovin' as he produces the worst fake id in teenage history. You said it man.

Harry Guerin
Read an interview with the cast of 'Superbad' here.