Book Review
He Wants by Alison Moore
Monday 25 Aug 2014
Publisher: Salt Publishing, paperback
1 of 1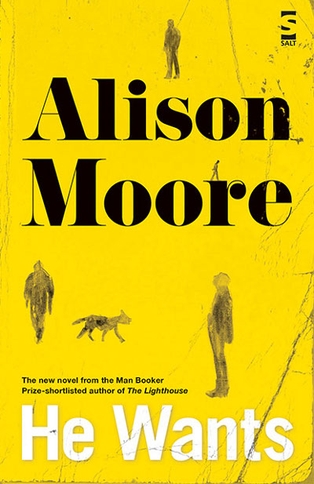 Alison Moore's first novel, The Lighthouse, won the McKitterick Prize in 2013, was shortlisted for the Man Booker Prize in 2012, the National Book Awards in 2012, the East Midlands Book Award in 2013 and the Sydney J. Bounds Award in 2013.
That is an impressive list and all of these nominations were no doubt well deserved. Although it is not a crime novel, The Lighthouse worked beautifully with tension and mystery. Moore (born 1971) showed herself particularly adept at depicting a tawdry landscape of lust, of obscure hungers, of spiritual alienation, much of it played out in a dingy German hotel.
The fact that its chief character, Futh, was a middle-aged, newly- separated man who had travelled by ferry from England to walk along the Rhine, made it somehow exotic and strange. There were shades of the great Norwegian novelist, Per Petterson, about The Lighthouse, though the author clearly had her own voice.
For her second novel, He Wants, Alison Moore decided to stay in England, and its an equally dingy landscape, but with evangelical religion replacing lust. It's a Little England of petty ownership and unrelenting suspicion, with an inert café, a dreadful nursing home, and a kind of school-marmy primness informing it all.
Loading your second novel with this unlovely baggage is risky - the story had better be strong to survive the deliberately drab setting.
Unfortunately, Moore spends so long describing the childhood of her character, Lewis, a retired Religious Education teacher, that by the time she links him up with his long-lost childhood friend, the over-bearing control freak Sydney, it's almost too late. Moore would have been better advised to have gotten in there early with even a modicum of compelling drama.
The novelist is almost at pains to depict the boring awfulness of certain kinds of villages in England. Moreover, the action remains bogged down in a kind of nihilistic abstraction, and the story just does not have the appeal of The Lighthouse, which I absolutely recommend.
Paddy Kehoe