Book Review
Echo's Bones by Samuel Beckett
Tuesday 12 Aug 2014
Publisher: Faber & Faber, hardback
1 of 1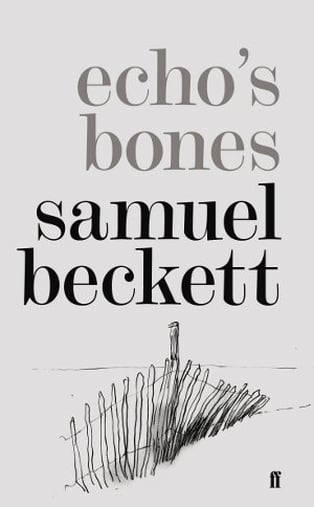 The previously unpublished story Echo's Bones is too in love with its future necessity for footnotes. It is little more than a young man's creation written under the close shadow of James Joyce. Beckett was 27 years of age at the time.
Moreover, the copious word-play and the use of recondite, esoteric usages means that reading the footnotes first - as this writer did - is much more pleasurable than engaging with the actual desultory, aimless story of Echo's Bones, a title which translates Ovid
Beckett literally revives his Belacqua character from More Pricks Than Kicks - i.e. brings him back from the dead - for the purposes of this new story. We also meet Lord Gall of Wormwood, who cannot father a child. Gall's estate will end up in the hands of the fertile Baron Extravas should he die intestate. Then there is Lady Gall, otherwise known as Moll, the prostitute Zaborovna Privet, and the gardener Doyle.
They don't get up to much by way of anything vividly dramatic, that's for sure. Aside from the opportunity for Beckett to get them to talk almost in riddles, it is hard to see what function the few characters have.
Joyce had, of course, patented this kind of thing, but it could only be done once, and Beckett had yet to find his voice. Reading Echo's Bones, you merely wish for the spare and austere language of First Love, or Krapp's Last Tape.
Suffice to say that this work was rejected by Beckett's publisher, Charles Prentice of Chatto & Windus, but rejected, it should be said with a certain dismay. Prentice, after all, was happy to publish the stories that would subsequently appear under the aforementioned title, More Pricks than Kicks.
He had hoped to include an extra story to bulk out the collection and justify the cover price of seven shillings and sixpence, but it was not to be, and for very good reason.
The copious footnotes gathered by editor Mark Nixon are impressive in their patient scholarship, painstakingly sourcing all the references, including those from previous Beckett 's Dream Notebook, his book on Proust, and the early novel, Dream of Fair to Middling Women.
Letters written to Beckett by Prentice are reproduced at the end of the book. "So it is a little difficult to suggest an advance, especially as 'Proust' has earned only two-thirds of his, but I hope that £25 will seem to you fair . . ." writes the man from Chatto & Windus..
A subsequent letter, written in November 1933, rejected Echo's Bones, but with a certain wringing of hands. "It is a nightmare, " Prentice writes . "Just too horribly persuasive. It gives me the jim-jams."
Sadly, Echo's Bones - which ends grimly in a graveyard - will give most contemporary readers the "jim-jams" also. However, it is a curiosity, and Nixon has managed to make the context of this, its first publication, 80 years since it was written, something like a worthwhile event. But that's only on the strength of the lively footnotes.
Paddy Kehoe