There's highlights of The 66th Annual Primetime Emmy Awards (9.00pm, Sky Living), more fun and games with those Devious Maids (8.40pm, RTÉ Two), while a birthday party brings bother on Ray Donovan (10.00pm, Sky Atlantic)
The 66th Annual Primetime Emmy Awards, 9.00pm, Sky Living
Less than 24 hours after the big night at the Nokia Theatre in Los Angeles, here are the highlights. Hosted by comedian Seth Meyers, the Emmys honour the best in US primetime television. IT's been another exceptional year for television, and competition is at an all-time high. Game of Thrones leads the way with 19 nominations, while Bryan Cranston faces stiff competition as he looks for his fourth win as Outstanding Lead Actor in a Drama Series for Breaking Bad.
Devious Maids, 8.40pm, RTÉ Two
Although it's not as much fun as the early seasons of Marc Cherry's previous show, Desperate Housewives, this is still good frothy fun and Anna Ortiz is always very watchable. This week, Genevieve hits a rough financial patch, putting Zoila's job in jeopardy. Meanwhile, Marisol makes an important discovery at the Powell house, Rosie and Spence heat up, and Carmen gets jealous when Sam starts dating. Elsewhere Valentina worries about Remi's erratic behaviour.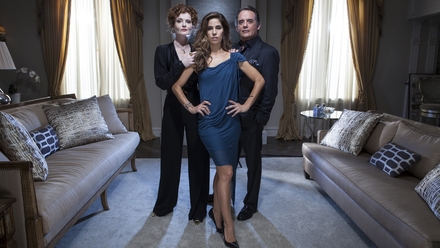 Ray Donovan, 10.00pm, Sky Atlantic
Leading man Liev Schreiber directs this episode written by series creator Ann Biderman. It's Conor's birthday, but Abby and Ray have both forgotten. The lad demands a family party with Terry, Bunchy, and Mickey all in attendance, but tensions run high when the whole family comes together at the Donovan house. Elsewhere, Ray must come to Ashley's aid when her stalker returns, and comes face-to-face with Cookie Brown when he shows up to take Bridget for a night out.